Interested to scuba dive? Check out this video..
What We Do
Yup that video wasn't exaggerating. It's true, scuba diving really is awesome. It's incredibly fun and once you're hooked.. It's often a romance that lasts a lifetime.
Pelican Divers was set up with the sole purpose of making diving fun, engaging and impactful. We don't certify dozens of divers a week. But what we lack in numbers, we make up for in results.
That said, we take our students and courses very seriously, every single one of our divers has been fine tuned to not only meet PADI's standards, but Pelican Divers standards as well.

Education Flowchart
Although we are certified to teach Divers right upto Professional Divemaster certification, we currently do not take on Rescue Divers onwards – unless they are already a Pelican Diver.
The simple reason is this, we would rather take on fresh students and build them up with the best diving habits; since we know each individual's capabilities – we can really focus and harness their full dive potential.
Fret not, if you still want to get certified with us, you can do Rescue Diver courses and beyond provided you successfully pass a controlled confined water dive with one of our Instructors. This can be done by applying here.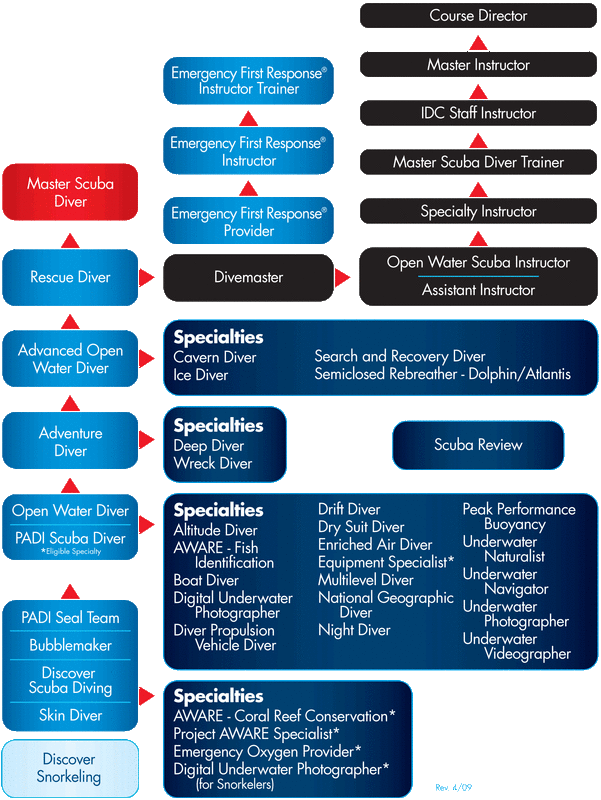 ---
"I had a really good time. Learnt so much and hanged out with so many cool people, I'm definitely recommending you guys to my friends. Let me know when you have your next dive trip!"
Timothy Lim
---
"I had done some scuba diving before but hadn't been certified. Going through this process was amazing and very educational. I feel very confident that I learned all the necessary skills needed for further diving. Thanks again Azman you were awesome!"
Damien Brzoska
---
"Azman made getting our PADI open water certification a blast. He was patient, helpful and always clear with his instructions. I'd recommend him to anyone and hope to dive with him again in the future!"
Chris Hexton